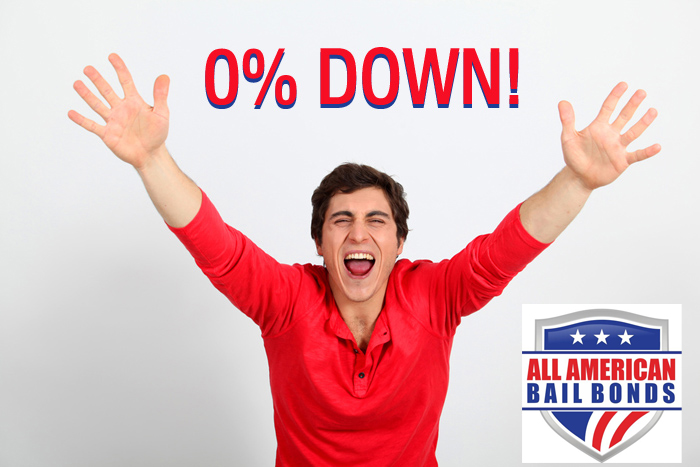 Zero Down Bail Bonds
0% interest Payment Plans
Here at All American Bail Bonds, Van Nuys Bail Bonds Service, we understand that Bail in the Van Nuys area can be very expensive. We understand that when your loved ones are in jail the stress and fear can be unbearable. We here at All American Bail Bonds will do everything in our power to obtain you an interest free Zero down payment plan.
Q. What are Zero Down Bail Bonds?
A. $0 Down bail bonds are bail bonds written with no money down, with the premium being based on Good Credit and/or Good Job History. Not everyone will qualify for our $0 down bail service, and if you do not qualify we will find an interest free payment plan that you can afford.
Q. What type of interest is charged, for Zero Down Bail Bonds?
A. Here at All American Van Nuys Bail Bonds, all of our payment plans are absolutely interest free! In fact we often rebate less risky bonds. Rebates can be up to 50% off, for those cases that qualify.
Q. If I don't qualify for Zero Down Bail Bonds, what can I do?
A. If you are unable to qualify for Zero Down, you may qualify for between 1% to 3% down. If credit is lacking and you are employed you will qualify for some type of interest free payment plan.
Q. If I qualify for the Zero Down, what will my total cost be?
A. Your total cost (Premium), will be between 5% and 10%. All premiums are negotiated based on risk. Example: Higher risk = Higher premium.
Q. If I qualify for a payment plan, will I still have to make payments once the case is completed?
A. Yes. All parties on the contract are financially responsible for all premium payments, regardless of the outcome of the case. Premium is earned upon the writing of the bond. Please note: NO PART OF THE BAIL BOND PREMIUM IS REFUNDABLE.
Q. Will this affect my credit score?
A. The credit checks that we run are soft credit inquiries. When we run your credit it is strictly for insurance purposes and unlike typical financing, the process will not have an adverse affect on your credit (NO DING).
License #
California Insurance # 1845565